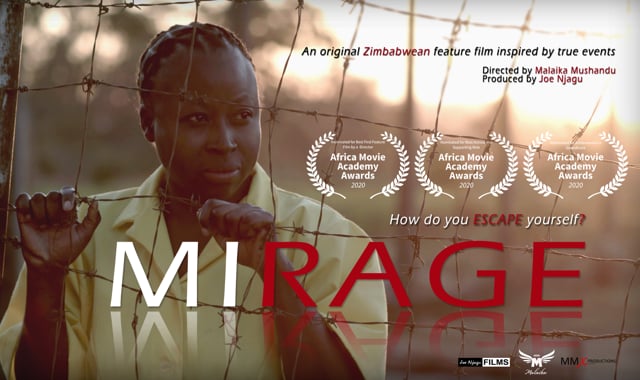 Mirage
The Letter
Death and other Complications
Mind Games
Kushata KweMoyo
Escape
Amalgamated - The dawn of Legends
Far from Yesterday
Playing Warriors
Lobola
Gringo - The Troublemaker
The Gentleman
Mirage

Genre: Feature Film - Drama
Length: 104 minutes
Language: English / Shona
Format: 4 K / HD
Directed by: Malaika Mushandu
Featuring: Prudence Katomeni Mbofana, Charmaine Mujeri, Chipo Bizure, Eunice Tava, Joylene Malenga
Production House: Malaika Productions, Joe Njagu Films, MMX Productions
Production Year: 2020
Nominations: 2020 AMAA Awards: Best first time Director, Best Actress in Supporting Role (Charmaine Mujeri), Best Soundtrack

Synopsis:

While serving a 5-year sentence at one of Zimbabwe's tightest prisons just outside of Harare, Tambu learns of the abuse of her daughter by her own brother back home. Fuelled by the passionate anger of a single mother, Tambu convinces fellow inmates Memo and Zoe to escape together with her.

The plan hangs on a thin thread, as rumours of the escape surface, fuelling an ongoing power struggle between one of the officers and the prison warden. Tambu seizes the moment during a prison ceremony by a popular pastor, and on the backdrop of the Zimbabwean coup in 2017, where president Robert Mugabe was ousted. The trio embark on a thrilling and dangerous prison break.

As we follow the 3 young women's journey to freedom, we ask ourselves: How do you escape yourself?



The Letter

Genre: Feature Film - Drama
Length: 86 minutes
Language: English / Shona
Format: HD
Directed by: Daves Guzha and Joe Njagu
Featuring: Emmanuel Mbirimi, Sarah Mpofu, John Dennisson
Production House: Creative Native and Joe Njagu Films
Production Year: 2019

Synopsis:

It's 2015, following the controversial July 17 legislation by the Zimbabwean government to abruptly cut off thousands of jobs, Simon has been the delivering the dreaded dismissal letters to his colleagues for weeks but when the axe finally yields on the Harare News general manager he takes the bad news very badly. The respected company executive turns into a bonafide criminal.

His 23 year old son has just been chased from university for non payment of tuition fees and his 25 year old mistress has just announced that she is carrying his baby.Simon turns to the bottle but does this bring his job back? Is this child really his? The story navigates through the demise of a man who had big plans after his retirement now faced with destitution and embarrassment.



Death and other Complications

Genre: Feature Film - Comedy
Length: 108 minutes
Language: English / Shona
Format: HD
Directed by: Shem Zemura
Featuring: Admire Kuzhangaira, Gamuchirai Duve, Eddingtone Hatitongwe
Production House: Rain Media
Production Year: 2018

Synopsis:

The story revolves around John, a spoilt young man who does not care about anyone else but himself and the shenanigans of this particular individual, his lifestyle and how he reacts to situations when he is under pressure.

While his parents and the rest of the family are away, he decides to bring a girl over but things take a nasty turn when she dies in his bedroom. With the family arriving in the midst of this unfortunate episode, the protagonist has to do everything he can to keep his secret hidden.



Mind Games

Genre: Feature Film - Thriller
Length: 103 minutes
Language: English
Format: HD
Directed by: Charles Mawungwa
Featuring: Kevin Hanssen, Dax Jackson
Production House: Reelnet Multimedia
Production Year: 2017

Synopsis:

Sam's guilt over the death of his son has led him on a dark secret life which has destroyed his relationship with his family and led to divorce. However, when he goes to work, he becomes victim of a genius psychopath known as Ex, who takes Sam through a series of tests that inadvertently forces Sam to revisits his dark secrets and resolve his personal demons. When it turns out that Ex, was merely a hired gun in a plot to rob Sam of his inheritance, Sam must use his new found focus to save his kidnapped daughter and possibly reunite his broken marriage.

Set in modern day Zimbabwe, Mind Games is a psychological thriller that unravels the complexities of human thought and emotion. The film takes your mind on an exciting journey filled with action, suspense and yes, the unexpected twists.

Kushata KweMoyo

Genre: Feature Film - Drama
Length: 92 minutes
Language: English / Shona
Format: HD
Directed by: Shem Zemura
Featuring: Alaika Bhasikolo, Gamuchirai Duve, Kudzai Musungo
Production House: Rain Media
Production Year: 2018

Synopsis:

A character driven drama about a vengeful housewife whose world is turned upside down when her once abusive step sister pays her an unexpected visit.

Escape

Genre: Feature Film - Drama
Length: 86 minutes
Language: English
Format: HD
Directed by:Agnieszka Piotrowska, Joe Njagu
Featuring:Munya Chidzonga, Jose Marques, Selmor Mtkudzi
Production House: Thinking Films, MMX Productions
Production Year: 2016

Synopsis:

A mixed-race man, Charles, discovers as his white mother is dying that his father is Zimbabwean. So, he goes to Harare to find him. He is a stranger in town and is enveloped in a range of mysterious situations.

He is torn between two women. Tsitsi is the hotel owner's wife and is so fundamentally damaged that she is evil. She wants Charles to kill her husband. Then there is a modern woman, Anna, who offers a real alternative. Charles becomes tormented by his dreams and repressed memories which begin to return.

Amalgamated - The dawn of Legends

Genre: Feature Film - Science Fiction
Length: 95 minutes
Language: English/Russian
Format: HD
Directed by:Van A.J Klaus
Featuring:Caroline Yule, Noel Sanderson, Lizzie Ntini
Production House: Proverbal Media Inc / Techno-series
Production Year: 2017

Synopsis:

Cyber Security Intelligence Agency, (CSIA) a secret organisation which hunts and monitors Meta-humans, Para-humans, Extra Terrestrials, and other non-human beings that infiltrate earth and live among humanity, recruits talented beings with abilities, to fight for the beings that cannot defend themselves.

On the day of Max's recruitment, a threat presents itself. Athromira, a Dugaar (Dugaars are a savage race from the spirit world) is trying to capture Hayden, an operative of Fringe Division, and any other CSIA agent.

Athromira is on a quest for vengeance, and targets the CSIA, since its founder, Ronnel Dei Carl, was once an Army General in the spirit realm, before coming to Earth. Carl led a fierce war against the Dugaars and stripped Dar'El, Athromira's father, of his glory as the father of the Dugaar species.

The Dugaars' goal is to retrieve the Box of Knowledge, which is in the safe keeping of the CSIA, and destroy the integrity of the CSIA. The CSIA, despite the confusion of not knowing who was killing their agents, manages to stand against the Dugaars, and defeat them in a final supernatural fight.

Far from Yesterday

Genre: Feature Film - Drama
Length: 70 minutes
Language: English/Shona
Format: HD
Directed by: Charles Mugaviri Jr.
Featuring: Hannah Madzikanda, Denise Edwards
Production House: Invision Studios
Production Year: 2015

Synopsis:

A thug impregnates a young girl and abandons her at his homestead, in hopes of burying the implications of his actions. But what do you do if a resurrected past knocks on your door?

Playing Warriors

Genre: Feature Film - Romantic Comedy
Length: 81 minutes
Language: English
Format: HD
Directed by: Rumbi Katedza
Featuring: Kudzai Sevenzo, Tendai Musoni
Production House: Mai Jai Films/Pangolin Films
Production Year: 2012

Synopsis:

When twenty-something advertising executive Nyarai finds out that her best friend Nonto is getting married, she and her lawyer friend Maxi are sent into a frenzy thinking that their time to find "Mr. Right" may be running out. Determined to marry for love–despite the insistence of her meddlesome mother that she hurry up and settle down–Nyarai sets out to find a modern man as strong and dependable as the mythical traditional warrior. Reminiscent of a Zimbabwean Sex and the City, director Rumbi Katedza's delightful debut feature is a smart and insightful comedy about the struggle of young African women to balance modern lifestyles with the pressures of family and tradition.

Lobola

Genre: Feature Film - Comedy
Length: 90 minutes
Language: English
Format: HD
Directed by: Joe Njagu
Featuring: Munya Chidzonga
Production House: The Decent Arthouse / Ivory Pictures
Production Year: 2010

Synopsis:

"Lobola" tells the story of a cosmopolitan young man, Sean Muza (played by Munya Chidzonga) who plots to come back home to Zimbabwe from America. Things take a new twist when he accidentally stumbles on information his father was keeping secret, leading Sean to make a rushed decision to prove his father wrong. He finds himself on a quest to plan and go through the process of paying Dowry (Lobola) in a single day, for Christine (played by Dalma Chiwereva) whom he has known for one month. Roping in his two equally ignorant brothers (played by Sean Silubonde and Tonderai Hakuna) and a drunkard Uncle (played by Antony Tongani) they embark on the mission. Their lack of knowledge and understanding of African traditions and norms sets them on a collision course with reality. Comically brought together this hilarious movie is set in contemporary Zimbabwe and it showcases the gap between the old and the young generation.

Gringo - The Troublemaker

Genre: Feature Film - Comedy
Length: 116 minutes
Language: English
Format: HD
Directed by: Ben Mahaka
Featuring: Lazarus Boora, Tapiwa Mavindidze, Evangelista Mwatse
Production House: Enock Chihombori, Ben Mahaka
Production Year: 2013

Synopsis:

Gringo the Troublemaker is about an ambitious young man, John, who while trying to please his demanding girlfriend, engages a traditional healer to help him get rich quickly. In an unfortunate turn of events, he accidentally crosses paths with Gringo, whose mischief and trickery disrupts all that he had planned.

The Gentleman

Genre:

 Feature Film - Drama

Length:

 100 minutes

Language:

English

Format:

HD

Directed by

: Joe Njagu

Featuring:

Wanisai Chawatama

,

Faith Chibale

,

Munya Chidzonga

Production House: 

The Decent Arthouse / Ivory Pictures

Production Year:

2011

Synopsis:

A tale of twin brothers whose worlds have gone drastically wrong. With one staying in South Africa and the other in Zimbabwe, fate throws at them financial situations that force them to drop the principles and integrity and pick up survival tactics. As they reunite, after eight years, they get entangled in the unfamiliar worlds of Zimbabwe's manipulative corporate darkness and South African mafioso.