______________________________________________________________________________________________________________________________________________
Panguro Media is an aggregator for Zimbabwean film and TV content.
Please feel free to browse our ever growing catalogue, and let us know what we can do for you.
Featured Content: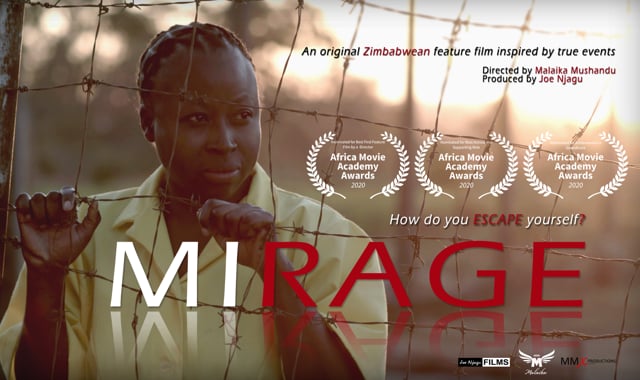 Mirage
Mirage

Genre: Feature Film - Drama
Length: 104 minutes
Language: English / Shona
Format: 4 K / HD
Directed by: Malaika Mushandu
Featuring: Prudence Katomeni Mbofana, Charmaine Mujeri, Chipo Bizure, Eunice Tava, Joylene Malenga
Production House: Malaika Productions, Joe Njagu Films, MMX Productions
Production Year: 2020
Nominations: 2020 AMAA Awards: Best first time Director, Best Actress in Supporting Role (Charmaine Mujeri), Best Soundtrack

Synopsis:

While serving a 5-year sentence at one of Zimbabwe's tightest prisons just outside of Harare, Tambu learns of the abuse of her daughter by her own brother back home. Fuelled by the passionate anger of a single mother, Tambu convinces fellow inmates Memo and Zoe to escape together with her.

The plan hangs on a thin thread, as rumours of the escape surface, fuelling an ongoing power struggle between one of the officers and the prison warden. Tambu seizes the moment during a prison ceremony by a popular pastor, and on the backdrop of the Zimbabwean coup in 2017, where president Robert Mugabe was ousted. The trio embark on a thrilling and dangerous prison break.

As we follow the 3 young women's journey to freedom, we ask ourselves: How do you escape yourself?